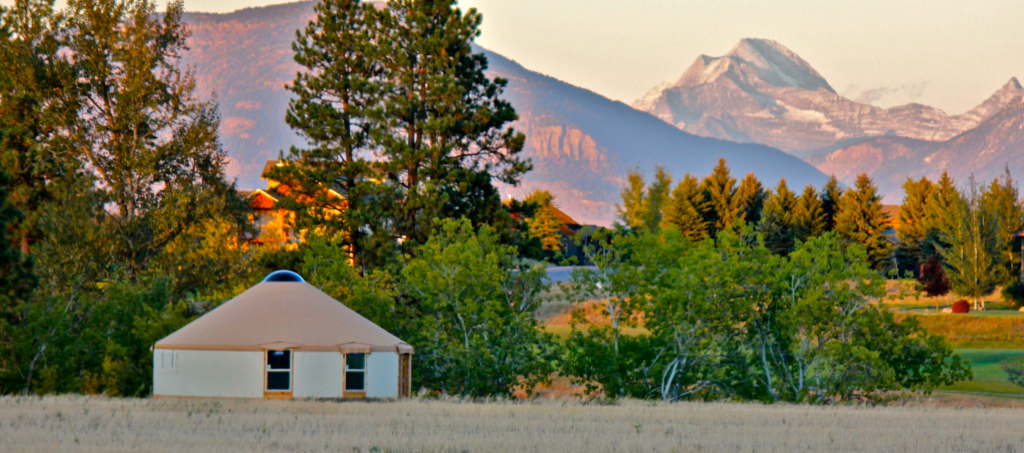 Welcome to Shelter Designs Yurts. If you are looking for the best yurts for sale on the market today, look no further.
Handcrafted in Montana, our yurts have generous standard features, certified engineering, and innovations you won't find in yurts for sale anywhere else! Some of these innovations include the 35' and 40' yurt, arctic insulation, and the Eco-Yurt™, just to name a few. 
We maintain an unparalleled commitment to customer satisfaction and work to create the best yurts for sale on the market today.  These are just a few of the qualities that set Shelter Designs yurts apart from other manufacturers.
Experience the real thing.
From the tropics of the South Pacific to the harsh winters of Alaska, people the world over are discovering the magic of living and working in a Shelter Designs yurt. Our yurts serve many diverse purposes including housing and business ventures.
We couldn't be more pleased with our decision to choose Shelter Designs to design and build our yurt. From the initial phone call to leading the yurt setup - Shelter Design's professional staff guided us step by step through the whole process. When friends and family visit our beautiful yurt their response is always the same, "Wow!"

Michael & Lacy

The folks at Shelter Designs were great to work with throughout the whole process. The yurt was delivered on schedule. The yurt assembly went well with no surprises, it is truly a quality product. We use it as a restaurant here at our ski area- the guests loved it. We look forward to many years of use and would definitely buy another one.

Jeff S.

Red Lodge Mountain

Our new yurt from Shelter Designs has been an amazing addition to the program. It not only looks great but serves as an excellent shelter for our team. The people at Shelter Designs were extremely helpful throughout the entire process and we couldn't be happier. I would recommend getting a yurt from these guys even if you don't have a place to put it!

A.J. C

Missoula Ski Education Foundation
Big enough to deliver, small enough to care
if you are looking for the finest quality yurts for sale today, look no further than Shelter Designs.