Hays and Vince – circa 2004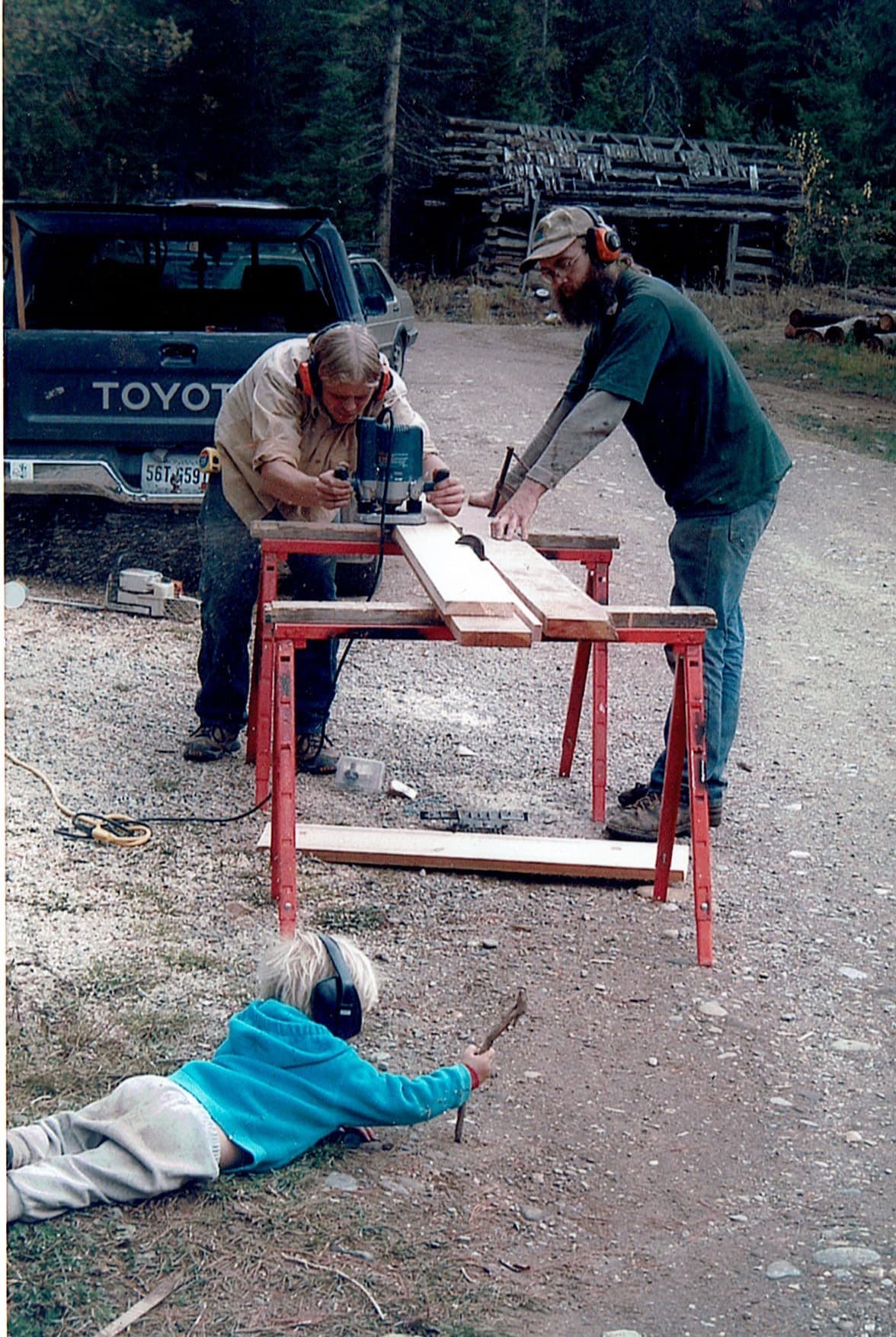 Yurts Montana
About Our Company
Our yurt builder story starts in 1999, when owners Hays Daniel and Vince Godby first met. Both were involved with volunteer activism work in the Yellowstone area, and shelter was a critical element in the harsh winter climate. Thus was born the first yurt (the furt as it's known here at Shelter Designs, the stuff of legends).
 In 2000 a migration of friends and family made their way to the Northwest corner of Montana to pursue the good life – growing food, building homes, raising families, making a handmade life. Hays and Vince continued to build yurts among other things, and in 2005 decided to make a go of it and officially established Shelter Designs.
One happy customer led to another, and by 2013 the yurt company had grown to a point where the 3500 sq. ft. shop outside of Troy was just not big enough any more. So, the decision was made among the families to move everyone and everything to Missoula, Montana. Missoula is a large city (by Montana standards!) where the opportunities for growth, both business and personal, were tremendous. Missoula is excited to have Shelter Designs, and we are excited to be here.  However, Lincoln County will always be in our hearts, hence the star in the Northwest corner of the state on our logo.
Montana is at the core of Shelter Designs. The hot, intense summers and long, cold winters were an ideal testing ground for product development. Rain, snow, cold, heat, wind – Montana has put the yurts to the test and has been an excellent teacher. The forests of Western Montana are a tremendous resource for quality lumber, and Shelter Designs is strongly committed to protecting these resources and using them wisely. The land and conditions have led to some of our unique innovations, which are found nowhere else. The Eco-Yurt is created using natural lodgepole pine, western larch, and cedar that grows right here in our state. We developed our Arctic Insulation package to keep you comfortable on negative 40 degree nights, and we provide built-in awnings over every entryway and glass window to protect the vulnerable points of the yurt from dripping rain and melting snow. Our standard 3/8" tension cable is a good idea with 6 feet of snow on a yurt.
Take a look around at other yurt builders. Study their websites, give them a call. In the end, we know you will find that Shelter Designs adds more standard features to every yurt, has innovative options found nowhere else, and provides top notch customer service – all at some of the best rates on the market. Simply put – if you are looking for the finest quality yurts for sale, look no further than Shelter Designs.