One of the best things about purchasing a Shelter Designs yurt is that you're buying a blank canvas, open for designing your ideal space. Shelter Designs yurts are all custom designed (by you) with door and window locations around the outside so that the yurt fits in exactly with your interior layout and exterior factors (views, parking, access, decks, etc). Whether you are going to use the yurt as a residence, guest space, office, retail space or rental unit, you get to decide how to make the most of the space and truly make it your own. While liberating for some, it can be a daunting task for others. Never fear! We are here to help with some ideas about how to design your perfect yurt interior – whether that be modern, rustic or more traditional yurt living.
While the yurt itself is an ancient structure, many of our customers want their yurt to have all of the modern conveniences and amenities of today's world. With a little bit of creative thought (think outside the box!) a modern-day yurt can have all of these conveniences. Frame walls to create interior rooms just like you would in any building. Before covering the walls up, run electric wire and plumbing inside of these walls so that you can have lighting and plumbing in desired locations. When this is finished, you'll have a perfect blank slate to create the space of your dreams. Without further delay, here are the top 3 yurt interior design ideas.
Traditional Yurt Design
Modern Yurt Interiors
Rustic Yurt Design
---
1. Traditional Yurt Design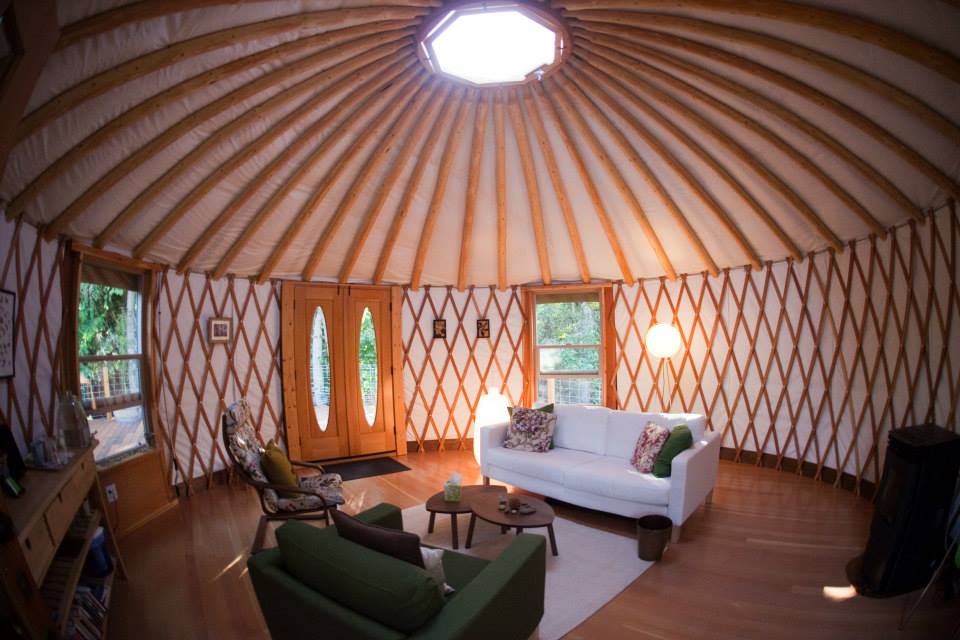 Traditional interior design is a comfortable design style that mixes eclectic styles from historical eras. Achieving this traditional style of design into your yurt is simple, and can be achieved using the following guidelines:
Keep it simple. Traditional interior design is calm and collected, using consistent styles and matching furniture pieces that have clean lines and softly blend in with each other to create a comfortable space.
Keep colors and fabrics simple and muted, avoiding jarring combinations or statement prints. Many traditionally designed spaces have light walls and darker furnishings.
Traditional designs are typically more formal; therefore, arrange furniture on a straight axis within the room, place pieces in pairs, and center them within the room.
---
2. Modern Yurt Interiors
Modern yurt interiors are characterized by a fuss-free approach to form and function. Started in the late 19th century, modern interiors arose from the need to create simpler spaces in rapidly growing spaces. Therefore, they embraced the large windows and industrial elements used in these new buildings to simplify forms.
Keep interior and exterior walls light and airy. Choosing tones of white and grey will create an open space that remains comfortable and cozy.
Furniture should have clean lines and plain fabric. Avoid loud prints that will disrupt the simplicity of the space.
Arrange spaces with an open floor plan. Keep the living room, dining space, and kitchen open to keep the flow of the space simple to navigate.
---
3. Rustic Yurt Design
Rustic interior design can be used to describe a variety of different styles.
At its core, rustic yurt interior design is characterized by natural, rough, aged, and casual elements within a space. When integrated with other interior design styles, this style becoming increasingly flexible and can speak to a wide range of individuals.
Emphasize natural materials by using wood, stone, burlap, and canvas. Don't be afraid to use these materials in their raw state, rather than introducing glossy finished materials.
Color palettes are traditionally neutral, using warm greens, browns, grays, and cream-tones. Keep these colors as the base of your design, but feel to throw a few vivid colors in there as long as they're still within an earth-toned world.
Rustic yurt interiors are cozy and create an inviting atmosphere. Center your pieces around a fireplace to shape the center of your space and remember that spaces are built to bring groups together in this design.
See More Yurt Interior Design Ideas Below!
For more information on our yurts for sale, visit our yurt kits page to build your own online and start budgeting for your yurt cost.